Unique Landscape Lights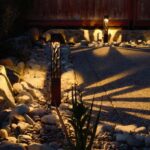 Our friends at Projected Lighting Designs Inc. have made some fantastic outdoor lighting fixtures.
Locally made in Victoria, BC these landscape lights are sure to add a great ambiance to any outdoor area.
They work great for lighting pathways, gardens, and driveways.
The integrated LED bulb provides adequate lighting with very low power usage.
There are very few landscape lights made in Canada, most are made offshore with inferior components.
These landscape lights are the most durable ones we've seen.
Support Canadian Made, Check them out today!
Canadian Made Landscape Lights
Landscape Lights Made in Canada