Architects and interio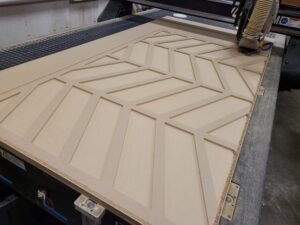 r designers sometimes have wild ideas that are hard bring to life with conventional methods.
Fortunately our CNC router equipment allows for greater freedom when it comes to creative expression in architecture!
We've machined hundreds of architectural panels for various applications such as cruise ships, building facades, and interior accents.
There are many materials that can be used, some that last longer than others.
We've machined HPL (high pressure laminate), hardwood ply, aluminum composite panel (ACP), MDF, and many other standars millworking substrates.
We can also machine transluscent substrates like acrylic to make custom light diffusers.
See some of our work below and contact us today about how we complete your project with architectural panel fabrication.